The Gifted Program - ePublication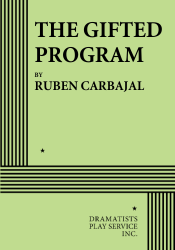 THE STORY: In 1986, at the very bottom of Washington High's social food chain are the last remaining members of the Dungeons & Dragons' club: four maladapted refugees from a defunct program for gifted and talented students, who have been thrown into the harsh arena of an inner-city public high school. When the identity of a secret admirer is revealed, the school's rigid hierarchy is upended; for Washington High's four most unpopular students, the simple pursuit of an education becomes a fight for survival.
"…Carbajal's humor alternates between lacerating and indulgent, and never slackens." —The New Yorker.