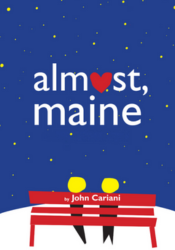 NOTE ON EDITIONS: The only version of ALMOST, MAINE that may be purchased and/or used in production is the Fourth Revised Edition, issued in 2023. The cover of the Fourth Revised Edition is red. No other version of any or all of the plays that comprise ALMOST, MAINE may be performed, per the author's request.

THE STORY: Welcome to Almost, Maine, a place that's so far north, it's almost not in the United States. It's almost in Canada. And it's not quite a town, because its residents never got around to getting organized. So it almost doesn't exist. One cold, clear, winter night, as the northern lights hover in the star-filled sky above, the residents of Almost, Maine, find themselves falling in and out of love in unexpected and hilarious ways. Knees are bruised. Hearts are broken. But the bruises heal, and the hearts mend—almost—in this delightful midwinter night's dream.
"ALMOST, MAINE is a series of nine amiably absurdist vignettes about love, with a touch of good-natured magic realism…witty, romantic, unsentimental. A beautifully structured play, with nifty surprise endings (most but not all of them happy)." —The New York Times.

"Sweet, poignant, and witty. Nearly perfect. AMOST, MAINE's charm is real. [It] packs wit, earns its laughs and, like love, surprises you." —New York Daily News.

"Mega-hit ALMOST, MAINE lands somewhere between Norman Rockwell and Our Town. Unabashedly unhip. There is no pretense of an edge here—the show offers a sweetness and decency that's become rare at the theater. At this point, it's a welcome breath of fresh air." —New York Post. WHAT THE COMMUNITY IS SAYING:
★★★★★ "Almost, Maine is the perfect show for high schools - it's sweet, funny and romantic with flexible casting." —Josh W., Director. Lewisburg Area High School (PA).

★★★★★ "Depth of writing and flexibility in staging and casting make this show one of my favorites to date." —Kim Z., Drama Teacher. Yorkville High School (IL).