The Gifted Program (High School Version)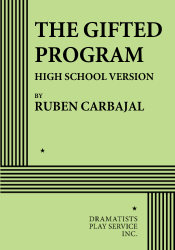 Full Length, Drama
8 men, 6 women
Total Cast: 14, Flexible Set
ISBN-13: 978-0-8222-2691-8


MIN. PERFORMANCE FEE: $105 per performance.
THE STORY: This is an alternative version of Ruben Carbajal's THE GIFTED PROGRAM with language appropriate for conservative high schools. In 1986, at the very bottom of Washington High's social food chain are the last remaining members of the Dungeons & Dragons' club: four maladapted refugees from a defunct program for gifted and talented students, who have been thrown into the harsh arena of an inner-city public high school. When the identity of a secret admirer is revealed, the school's rigid hierarchy is upended; for Washington High's four most unpopular students, the simple pursuit of an education becomes a fight for survival.
"…Carbajal's humor alternates between lacerating and indulgent, and never slackens." —The New Yorker.