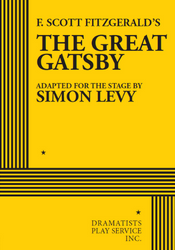 THE STORY: Jay Gatsby, a self-made millionaire, passionately pursues the elusive Daisy Buchanan. Nick Carraway, a young newcomer to Long Island, is drawn into their world of obsession, greed and danger. The breathtaking glamour and decadent excess of the Jazz Age come to the stage in F. Scott Fitzgerald's classic novel, and in Simon Levy's adaptation, approved by the Fitzgerald Estate.
"Playwright Simon Levy does a beautiful job of distilling Fitzgerald's sometimes fussy prose. Levy's combination of narration, dialogue and action delivers most of what is best in the novel…a brilliant distillation." —Seattle Post-Intelligencer.

"A clean, imaginative and sometimes surreal work." —Minneapolis Star Tribune.

"By the end of the evening, there was a longing to see it again. And then again…This adaptation by Simon Levy clearly understood that Fitzgerald's words are sacred and can't be improved upon. What was added, deleted or changed to adapt the story to the stage was so faithful to Fitzgerald that it became seamless…Expectations were far exceeded." —Arizona Daily Star.

"Somewhere out there, Jay Gatsby is smiling one of those enigmatic smiles, with everything and nothing behind it. 'Yes, old sport,' Gatsby is saying, 'that's about right. That's about right.' Surely, that smiling sign of approval would be Gatsby's suitably understated take on Simon Levy's adaptation of F. Scott Fitzgerald's The Great Gatsby…a beautifully crafted interpretation of the 1925 novel which defined the Jazz Age…This is indeed a grand GATSBY." —London Free Press.

"Sweeping…excellent…Levy's adaptation wisely anchors itself around the first-person account of narrator Nick Carraway…a satisfying conclusion…affecting." —Variety.