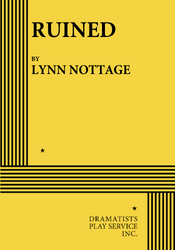 Winner of the 2009 Pulitzer Prize for Drama
THE STORY:
From Lynn Nottage, the Pulitzer Prize–winning author of such plays as
Fabulation or, The Re-Education of Undine
and
Intimate Apparel
, comes this haunting, probing work about the resilience of the human spirit during times of war. Set in a small mining town in Democratic Republic of Congo, this powerful play follows Mama Nadi, a shrewd businesswoman in a land torn apart by civil war. But is she protecting or profiting by the women she shelters? How far will she go to survive? Can a price be placed on a human life?
"RUINED takes us inside an unthinkable reality and into the heads of victims and perpetrators to create a full-immersion drama of shocking complexity and moral ambiguity. What's more surprising is the exquisite balance the playwright brings—of brutality and poetry, hope and even humor." —Variety.

"Strong and absorbing…a raw and genuine agony pulses within…a cleareyed celebration of endurance." —The New York Times.

"Sincere, passionate, courageous and acutely argued, RUINED is a remarkable theatrical accomplishment…" —Chicago Tribune.

"In the hands of this talented playwright, what might have been a predictable political polemic instead emerges as a richly stirring and complex drama that even includes generous doses of humor." —New York Post.