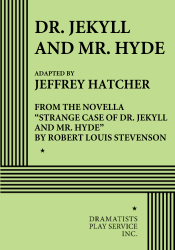 THE STORY: A new and shocking version of Robert Louis Stevenson's classic tale of depravity, lust, love and horror. On the fog-bound streets of Victorian-era London, Henry Jekyll's experiments with exotic "powders and tinctures" have brought forth his other self—Edward Hyde, a sensualist and villain free to commit the sins Jekyll is too civilized to comprehend. When Hyde meets a woman who stirs his interest, Jekyll fears for her life and decides to end his experiments. But Hyde has other ideas, and so the two sides battle each other in a deadly game of cat-and-mouse to determine who shall be the master and who his slave. With multiple Hydes portrayed by members of the cast.
"A smart, tense and suspenseful new take on Stevenson's look at the evil that lurks in the hearts of men…Hatcher has fashioned a play that seems truer to Stevenson but hipper, sexier and more intense…a suspense almost as affecting as it is intense." —San Francisco Chronicle.

"An elegant re-telling of the classic tale. Hatcher has a sure hand with tone and suspense. He knows how to spring just enough surprises to keep us guessing. In the end, despite the legion of villains in the play, it's the tug of war between Jekyll and his own erupting sense of shame and disgust that leaves the most indelible mark on the mind's eye." —San Jose Mercury News.

"This is not your grandfather's Dr. Jekyll and Mr. Hyde. In Hatcher's version, the dark Hyde indeed comes out, and he is evil beyond measure. But not all evil: He loves, and is loved. Too, Jekyll isn't the pure soul we've come to believe him to be. Hatcher has written a play that honors the original, but gives a more complex interpretation of the dual nature of man. A dark and disturbing story liberally peppered with humor." —Arizona Daily Star.

"Sex, drugs, violence. What's not to like?…[A] psychological thriller that makes an old-hat horror story scary again. The dark intensity of the drama is unrelenting, even through the well-timed laugh lines. While paying homage to Stevenson, this remixed version makes his Victorian concerns relevant in the 21st century. It would be a sin to miss it." —Arizona Republic.