Vanya and Sonia and Masha and Spike - ePublication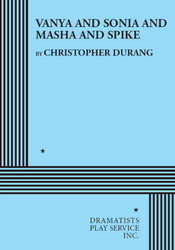 Winner of the 2013 Tony Award® for Best Play.

THE STORY: Middle-aged siblings Vanya and Sonia share a home in Bucks County, PA, where they bicker and complain about the circumstances of their lives. Suddenly, their movie-star sister, Masha, swoops in with her new boy toy, Spike. Old resentments flare up, eventually leading to threats to sell the house. Also on the scene are sassy maid Cassandra, who can predict the future, and a lovely young aspiring actress named Nina, whose prettiness somewhat worries the imperious Masha.
Also winner of the 2013 New York Drama Critics' Circle Award for Best Play, the Drama Desk Award for Outstanding Play, Drama League Award for Outstanding Production of a Play.

"Broad comic acting is raised to the level of high art…deliriously funny…a heedless good time." —The New York Times.

"…riotous…the show's a ton of fun even if you can't tell your Seagull from your Uncle Vanya…This is the kind of full-on comedy that's sadly rare on Broadway." —New York Post.

"Hugely entertaining…few contemporary playwrights have proven as deft as Durang at mining both the absurdity and the dangers of human folly…in its own deliciously madcap way, the new work offers some keen insights into the challenges and agonies of twenty-first-century life." —USA Today

"Everyone has a monologue that is nothing short of hilarious. (You'll find yourself using that word a lot.)…You've only spent a weekend with these people, but you might want to spend the rest of your life with Vanya and Sonia and Masha and Spike."—Huffington Post.