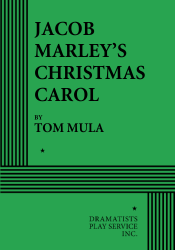 THE STORY: "Marley was dead, to begin with…" —and what happens to Ebenezer Scrooge's mean, sour, pruney old business partner after that? Chained and shackled, Marley is condemned to a hellish eternity. He's even given his own private tormentor: a malicious little hell-sprite who thoroughly enjoys his work. Desperate, Marley accepts his one chance to free himself: To escape his own chains, he must first redeem Scrooge. So begins a journey of laughter and terror, redemption and renewal, during which Scrooge's heart, indeed, is opened; but not before Marley—in this irreverent, funny and deeply moving story—discovers his own.
"…Nothing less than an anthem to human nature, to imagination, and to the wonder of a compelling story told by a wondrous storyteller…among the best evenings of the theatrical year…As the tale slips down the throat like a hot chocolate, it also reveals new truths about the human condition…in Mula's warm and inviting hands, Marley becomes a tortured but poignant and ultimately redeemed soul who personally stage-manages Scrooge's reformation and finds his own redemption therein…an inspired and moving story that makes all that old stuff about ghosts and graves seem both immediate and revelatory…a splendid and invigorating evening!" —Chicago Tribune.

"…[Blends] a Dickens sensibility with a taste for fairy tales and contemporary wit…thoroughly charming—a holiday treat…" —Daily Herald (Chicago).

"…Superbly written, marvelously performed…inspired writing…funny, moving, and hypnotic throughout…" —Chicago Sun-Times.

"Delectably zany…inspired theatre…gives the audience cause to ache, and to laugh, and in the end, to exalt." —Citybeat.

"Of all the holiday shows dotting the theatrical landscape, none shines brighter than JACOB MARLEY'S CHRISTMAS CAROL." —The Life.

"…Wondrous…an instant classic…" —Chicago Gay Times.