The Outgoing Tide - ePublication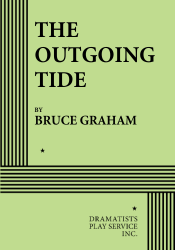 THE STORY: In a summer cottage on Chesapeake Bay, Gunner has hatched an unorthodox plan to secure his family's future but meets with resistance from his wife and son, who have plans of their own. As winter approaches, the three must quickly find common ground and come to an understanding—before the tide goes out. This drama hums with dark humor and powerful emotion.
"…this drama brings sensitive observation and minor-key humor to painful situations that many of us will recognize from our own families…its poignant conclusion will have resonance for many in the audience." —The New York Times.

"…superb…tightly focused piece about a family of three…Graham zeroes in on recognizable truths." —Chicago Tribune.

"The characters are well-drawn, the dialogue is pungent…The script's frequent time shifts from present to past and back again are handled with a telling simplicity…may well flood your emotions with its emotional truth." —Backstage.