Any Given Monday - ePublication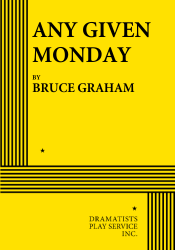 THE STORY: Lenny is a great guy: a good teacher, an excellent father and a loving husband. So when his wife leaves him for a smooth-talking lothario who builds Walmarts, his life is shattered. While Lenny consoles himself with pizza and Monday Night Football, his best friend Mick takes matters into his own hands. Now Lenny must decide what he will stand up for and who he will stand up to. How far is too far to get back to happily-ever-after?
"A dark comedy so offensive, so amoral and so generally unpleasant that you'll hate yourself for laughing at it. The problem is, you'll hate yourself a lot." —New York Post.

"Graham raises existential quandaries and showcases dramatic actions that illuminate them…" —Backstage.

"A drawing room fable in which the ends justify the means, and happily ever after includes rooting for injuries—and waiting for the police reports." —The New York Times.