Gidion's Knot - ePublication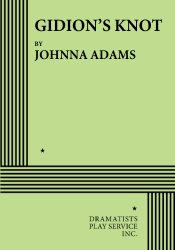 THE STORY: Over the course of a parent/teacher conference, a grieving mother and an emotionally overwhelmed primary school teacher have a fraught conversation about the tragic suicide of the mother's son, Gidion. Gidion may have been bullied severely—or he may have been an abuser. As his story is slowly uncovered, the women try to reconstruct a satisfying explanation for Gidion's act and come to terms with excruciating feelings of culpability.
"…resonant…[a] particularly eloquent study of people caught between the competing demands of reason, morality and family…harrowing…a narrative that is as elegant as it is chilling." —Washington Post.

"…heart-stopping…the show has pathos and suspense in bucketloads…Within a lean 80 minutes, the show raises profound questions about parenting and education and documents the gut-wrenching force of maternal loyalty." —Washingtonian.

"GIDION'S KNOT is as sad as life itself, and as funny and startling as well…a beautiful, disturbing story." —DC Theatre Scene.