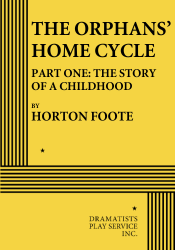 THE STORY:
Act One:
Roots in a Parched Ground
When his father dies and his mother and sister move to Houston, Horace Robedaux is left behind in Harrison, Texas with his feuding relatives, the Robedauxs and the Thorntons.
Act Two:
Convicts
Horace takes a job on Soll Gautier's plantation in order to earn money to buy a tombstone for his father's grave and while there witnesses the harsh treatment of Gautier's convict laborers.
Act Three:
Lily Dale
Horace makes a rare visit to Houston to see his mother, Corella, and sister, Lily Dale. As Horace's presence stirs up difficult memories for his mother and sister, Corella strives to maintain harmony between her children and their stepfather, Pete Davenport.
The Orphans' Home Cycle, Part Two: The Story of a Marriage
The Orphans' Home Cycle, Part Three: The Story of a Family
"Foote based his work on the life of his father, which he learned of through numerous family stories told repeatedly to him in his youth. He certainly listened well: The writing is wise, deeply observant, and impressively detailed. Deceptively small-scaled and naturalistic, the work is really epic in scope, placing the lives of these modest people against the sweeping forces of social change and the vagaries of time…nothing less than an American masterwork." —Backstage.

"With its tales of harsh times, social and economic change, Reconstruction, education, and industry in small-town America, THE STORY OF A CHILDHOOD heralds the beginning of something extraordinary. And you'll be waiting with baited breath for Foote's next chapter." —Entertainment Weekly.

"There is so much life compressed here: greed, disease, murder, cruelty to children, the bitter legacy of slavery and a sad, ambivalent hero—Horace Robedaux, alienated observer of a family that abandoned him…Foote's understated epic is an authentic American classic about the birth pangs of the twentieth century. It's told with humor, deep sadness and great writerly craft. I can't wait to see what happens next." —Time Out New York.