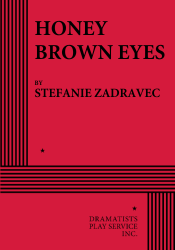 THE STORY: Bosnia 1992: In two kitchens, two soldiers recover a little of what they've lost during the war. A Serbian paramilitary soldier must face the consequences of his own brutality, while a Bosnian resistance fighter, crippled by the limits of his own courage, seeks refuge with a kindred soul.
"Ms. Zadravec has tackled a bruising subject and dared to approach it through her own, more humanistic aesthetic, one that can spot isolated moments of grace in even the most nightmarish scenarios. It will be interesting to see where this aesthetic takes her next." —The New York Times.

"Although each character is allowed to show some mettle, Zadravec doesn't overplay the heroism. Putting them all around kitchen sinks, she wants us to see how, in the midst of incomprehensible cruelty, tragedy could come to be something utterly average…Zadravec's drama makes for an absorbing evening, especially when it lets its traumatized characters reveal, in muted exchanges, who they were before the nation broke down into armed camps of Serbs, Croats and Bosnian Muslims." —Washington Post.

"Stefanie Zadravec's HONEY BROWN EYES [is] a passionate, thought-provoking play about war, whose serious message is intensified by its implied comments on youth, age, courage and the disastrous effects of conflict—not just on nations but on brothers and friends." —Examiner.

"Playwright Stefanie Zadravec deploys a different kind of kitchen-sink drama, one that perceptively explores the psychologically crushing consequences of a war that, in HONEY BROWN EYES, leaves two former friends on opposing sides." —Time Out New York.

"Zadravec is to be lauded for taking a faraway conflict and skillfully revealing its universal lessons." —Huffington Post.

"As a writer Zadravec is skillful at keeping her audience on its toes. Absurd but raucous comedy can turn on a razor-thin edge to tragic violence, then to much darker comedy and then on into the unknown." —TheaterMania.