Buyer & Cellar - ePublication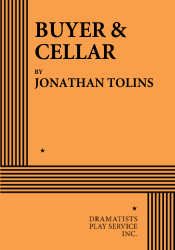 THE STORY: Alex More has a story to tell. A struggling actor in L.A., he takes a job working in the Malibu basement of a beloved megastar. One day, the Lady Herself comes downstairs to play. It feels like real bonding in the basement, but will their relationship ever make it upstairs? BUYER & CELLAR is an outrageous comedy about the price of fame, the cost of things, and the oddest of odd jobs.
Winner of the 2014–2015 Lucille Lortel Award for Outstanding Solo Show.

"Jonathan Tolins has concocted an irresistible one-man play from the most peculiar of fictitious premises—an underemployed Los Angeles actor goes to work in Barbra Streisand's Malibu, Calif., basement—allowing the playwright to ruminate with delicious wit and perspicacity on the solitude of celebrity, the love-hate attraction between gay men and divas, and the melancholy that lurks beneath narcissism. This seriously funny slice of absurdist whimsy creates the illusion of a stage filled with multiple people, all of them with their own droll point of view." —The New York Times.

"A fantasy so delightful you wish it were true." —The New Yorker.

"Hilarious! Beyond brilliant. This show will go down like butta'!" —Entertainment Weekly.

"Fantastically funny." —New York Post.