August: Osage County - ePublication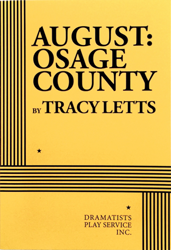 Recipient of the 2008 Tony Award® for Best Play and Winner of the Pulitzer Prize for Drama.

THE STORY: A vanished father. A pill-popping mother. Three sisters harboring shady little secrets. When the large Weston family unexpectedly reunites after Dad disappears, their Oklahoman family homestead explodes in a maelstrom of repressed truths and unsettling secrets. Mix in Violet, the drugged-up, scathingly acidic matriarch, and you've got a major new play that unflinchingly—and uproariously—exposes the dark side of the Midwestern American family.
"I'd bet the farm that no family has ever been as unhappy in as many ways—and to such sensationally entertaining effect—as the Westons of AUGUST: OSAGE COUNTY, a fraught, densely plotted saga of an Oklahoma clan in a state of near-apocalyptic meltdown. Fiercely funny and bitingly sad…[a] turbo-charged tragicomedy…" —The New York Times.

"In Tracy Letts' ferociously entertaining play, the American dysfunctional family drama comes roaring into the twenty-first century with eyes blazing, nostrils flaring and fangs bared, laced with corrosive humor so darkly delicious and ghastly that you're squirming in your seat even as you're doubled-over laughing. A massive meditation on the cruel realities that often belie standard expectations of conjugal and family accord—not to mention on the decline of American integrity itself." —Variety.

"Tracy Letts, in his Broadway debut, creates a hugely ambitious, highly combustible saga that will leave you reeling. AUGUST: OSAGE COUNTY may make you think twice about going home for the holidays…it's a great big exhilarating gift." —New York Daily News.

"Packed with unforgettable characters and dozens of quotable lines, AUGUST: OSAGE COUNTY is a tensely satisfying comedy, interspersed with remarkable evocations on the cruelties and (occasional) kindnesses of family life." —New York Sun.

"This is a play that will leave us laughing and wondering, shuddering and smiling, long after the house lights come back on." —Newsday (NY).

"This original and corrosive black comedy deserves a seat at the dinner table with the great American family plays." —Time Magazine.