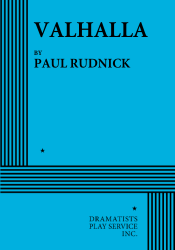 THE STORY: VALHALLA intertwines two stories: the life of Ludwig of Bavaria, the 1880s Mad King responsible for building a series of storybook castles inspired by Wagnerian operas, and the fictional adventures of James Avery, a wild Texas teenager of the 1940s. These two iconoclasts are tracked from childhood through their deaths, and while they embody separate eras, they are ultimately revealed as time-traveling soul mates. The play explores questions of beauty and madness, as both Ludwig and James pursue lives of operatic passion, bringing them in contact with such diverse figures as a high-school quarterback, the prettiest girl in Dainsville, Texas, most of the characters of Lohengrin and princess Sophie, who declares herself "the loneliest humpback in Europe." VALHALLA is a comic epic, confronting the price to be paid for wanting, and getting, everything you dream of.
"You can be sure that a winsomely wicked bon mot will fly by every minute or so." —The New York Times.

"Paul Rudnick's most ambitious and…his strongest work yet." —The New Republic.

"…a dizzy, brisk diptych that connects 19th-century Bavaria to 1940s Texas in a unified field theory of gayness." —Time Out New York.

"…a juggling act skillful enough to revive vaudeville." —Village Voice.

"If, as Paul Rudnick contends, 'opera is music gone mad,' what's it called when a giddy profusion of one-liners achieves the lunatic rhythm of music?" —Newsday (NY).

"Quips fall with the regularity of autumn leaves." —Associated Press.