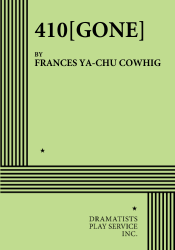 THE STORY: Where do we go when we die? In Frances Ya-Chu Cowhig's dark and dazzling 410[GONE], that all depends on how you play the game. The stakes couldn't be higher when a young woman goes in search of her lost brother in the Land of the Dead—a dominion ruled by the Chinese Goddess of Mercy and the Monkey King, where time is suspended, and an arcade dance console holds the key to transmigration. On this fantastical journey into the underworld, a sister and brother must face the ultimate question: If there is no love without pain, what does it mean to love?
"Death is a video game in Frances Ya-Chu Cowhig's quirky cross-cultural afterlife drama 410[GONE]. The idea might provide some comfort to a modern Chinese American youth newly arrived in the Chinese Land of the Dead, but it's easy to see why it's put the age-old Goddess of Mercy in an eternally foul mood…Cowhig is a distinctively original writer with a brash, at times provocative style and a wit that can sneak up and catch you off-guard." —SF Gate.

"…mesmerizing…This is a smart, funny play that, for all its edgy games, turns out to be a modern riff on Orpheus and Eurydice in which coming to terms with loss and trying to understand death turn it into a much more conventional (but no less moving) drama." —Theater Dogs.

"410[GONE] re-organizes and layers familiar Asian American dramatic elements (traditional folk elements, etc.) and typical American experiences (fast food, etc.) to expose, but never define, Twenty-One's grief, Seventeen's spiritual dilemma, and a relationship between a brother and sister… Frances' bricolage of imagery creates a cultural frame that is so emotionally accurate one forgets its critical role in creating the experience…If you cry at this play, don't worry. It's just because it hurts so good." —Hyphen Magazine.