100 Saints You Should Know - ePublication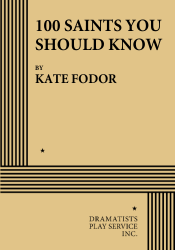 THE STORY: Theresa is estranged from her family and working as a cleaning woman when she finds herself surprised by the unexpected desire to learn how to pray. Matthew, the priest whose rectory she cleans, is stunned and heartbroken by the realization that he no longer knows how to talk to God. When he disappears one day, Theresa feels compelled to track him down, and her search changes both of their lives.
"One of the ten best plays of 2007." —Entertainment Weekly.

"Fodor's play glows with the sense that the keenest evidence of the search for God is in the homiest details." —The New York Times.

"This is a play you should know…It's a beauty." —Newsday (NY).

"Riveting…Poignant." —Bloomberg. "Kate Fodor's achingly truthful drama discerned the faint outlines of hope in a universe of lost connections." —Time Out New York.