Necessary Targets - ePublication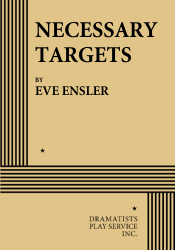 THE STORY: In NECESSARY TARGETS, two American women, a Park Avenue psychiatrist and an ambitious young writer, travel to Bosnia to help women refugees confront their memories of war. Though the two have little in common beyond the methods they use to distance themselves from their subjects, they emerge deeply changed as they confront their own fears in the face of violence, resiliency and war. Based on interviews conducted by Eve Ensler with numerous women who survived the civil war in the former Yugoslavia, NECESSARY TARGETS is a timely reminder of how America struggles to define its relationship to the rest of the world.
"…a bold and provocative theme for Ms. Ensler…artistically introspective…bristles with enough tantalizing topics to fuel a year's worth of symposiums…" —The New York Times.

"Rather than elegantly personifying the psychological repercussions of war, [Ensler's] characters behave like ordinary people under extraordinary duress…Ensler's straightforward intensity and delicate comic relief make [her characters' plight] absorbing and moving." —USA Today.