Handle With Care - ePublication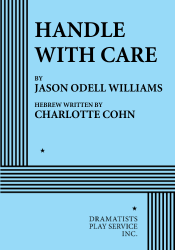 THE STORY: Circumstances both hilarious and tragic bring together a young Israeli woman, who has little command of English, and a young American man, who has little command of romance. Is their inevitable love an accident…or is it destiny, generations in the making?
"A hilarious and heartwarming romantic comedy…which exudes gobs of comic energy and insight. Mr. Williams has achieved something special: He has written a Jewish Christmas story." —The New York Times.

"Miraculous…the story of the beauty in tragedy, the rekindling of faith, and realizing that you're found in translation…leaves the audience delighted." —Jewish Week.

"A romantic comedy you'll remember fondly well into next year. Modest, a little self-effacing and touchingly optimistic, the play is a perfect date to attend with friends and lovers." —Ithaca Times.

"Hilariously funny! Utterly charming, fearlessly adorable and a tiny bit magical." —Naples News.