Lost Girls - ePublication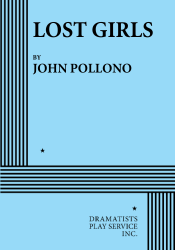 THE STORY: When Erica, their sixteen-year-old daughter, goes missing during a winter storm, Maggie and Lou— former high school sweethearts, now divorced—are forced to confront the legacy of their past decisions. Filled with poignant passions and dark humor, LOST GIRLS is a hard-hitting drama about the women of a blue-collar family struggling to rise above their limited prospects, in a world indifferent to their struggles, to prevent history from repeating itself.
"…[a] quite moving comic drama…Mr. Pollono is a deft practitioner of the sort of twist-in-the-tale narratives that are mostly associated with short-story writers of earlier eras, like O. Henry and W. Somerset Maugham…LOST GIRLS unfolds as a counterpoint between bright, youthful expectations and the gray resignation of characters who in their 30s have already slid into middle age. The play's title starts to acquire a deep-blue aura of predestination." —The New York Times.

"[A] gritty New Hampshire drama, LOST GIRLS…provides further theatrical evidence that the traumatic past doesn't die but rather moves underground…a truthful psychological study of characters trying to figure out how to coexist with their grievances. There's a twist to this dysfunctional family drama that is at once surprising and completely integral…very moving." —Los Angeles Times.

"Pollono richly understands this milieu, and the colorful speech rings musically…he summons sympathetic involvement with these interesting people and gives them a dimension of expression that belies their lack of education and dim prospects." —The Hollywood Reporter.