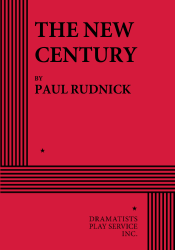 THE STORIES: When the playwright is Paul Rudnick, expectations are geared for a play both hilarious and smart, and THE NEW CENTURY is no exception. It is a provocative and outrageous comedy, featuring a collection of hilarious characters.

In PRIDE AND JOY, Helene is a Long Island matron, the self-proclaimed "most loving mother of all time" to her three gay children, whom she brags about at the Massapequa chapter of Parents of Lesbians, Gays, Bisexuals, The Transgendered, The Questioning, The Curious, The Creatively Concerned and Others (1 man, 1 woman).

The flamboyant MR. CHARLES, CURRENTLY OF PALM BEACH is described by Mr. Rudnick as "an aging homosexual hounded out of New York City by younger gay men, who find his theatrical style a threatening throwback to an earlier, tougher time." Mr. Charles spends his exile in the company of the hunky Shane, with whom he produces a cable television show, Too Gay (2 men, 1 woman).

In CRAFTY, Barbara Ellen is a Midwestern craftswoman and competitive cake-decorator who has lost a son to AIDS (1 woman).

In THE NEW CENTURY, all of these hilarious and poignant people collide under surprising and comical circumstances, providing evidence of just where our new century might be heading (2 men, 3 women).
"The one-liners fly like rockets in THE NEW CENTURY, the rollicking bill of short plays by Paul Rudnick…Building on time-honored traditions within gay and Jewish humor, Mr. Rudnick turns stereotypes into bullet-deflecting armor and jokes into an inexhaustible supply of ammunition…Frivolity for his characters is a solid existential choice in a threatening universe." —The New York Times.

"It's not every day that a comedy writer gets a laugh on every line he intends to be thigh-slappingly funny, but Paul Rudnick does so with THE NEW CENTURY." —TheaterMania.

"The evening contains so many gut-busting one-liners that those with heart conditions are advised to steer clear." —New York Post.

"Paul Rudnick just may be the funniest playwright around. A perfect little production!" —Journal News.