Satchmo at the Waldorf - ePublication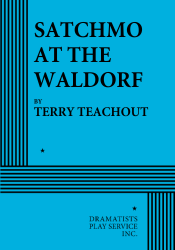 THE STORY: SATCHMO AT THE WALDORF is a one-man, three-character play in which the same actor portrays Louis Armstrong, the greatest of all jazz trumpeters; Joe Glaser, his white manager; and Miles Davis, who admired Armstrong's playing but disliked his onstage manner. It takes place in 1971 in a dressing room backstage at the Empire Room of New York's Waldorf-Astoria Hotel, where Armstrong performed in public for the last time four months before his death. Reminiscing into a tape recorder about his life and work, Armstrong seeks to come to terms with his longstanding relationship with Glaser, whom he once loved like a father but now believes to have betrayed him. In alternating scenes, Glaser defends his controversial decision to promote Armstrong's career (with the help of the Chicago mob) by encouraging him to simplify his musical style, while Davis attacks Armstrong for pandering to white audiences.
"By the show's end, you sense the profound fortitude that lay beneath the avuncular surface of this giant, and you are newly appreciative of his singular place in history." —The New York Times.

"An extraordinarily rich and complex characterization." —The New Yorker.

"A trenchant portrait of the artist." —New York Post.

"A complex and finely shaded picture…of an artist coping with racism." —New York Daily News.

"A deep, impassioned bio-play about a jazz legend…a work of insight and power." —Boston Globe.