Row After Row - ePublication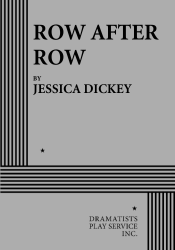 THE STORY: When two hard-core Civil War reenactors show up for their annual Gettysburg beer and find a pretty stranger at their table, old allegiances come into question. Straddling 1863 and today, ROW AFTER ROW is a dark comedy about choosing your cause and finding your courage.
"[A] likeable comedy-drama…lovely writing…a funny, touching case for historical reenactment as useful therapy…" —The New York Times.

"Jessica Dickey's funny, sad, deep, and smart play is beautifully written…" —The New Yorker.

"ROW AFTER ROW is an intelligent look into heretofore unexplored dramatic territory. Dickey should be commended for tapping into the fertile soil of historical reenactors and the reasons why people would willingly abandon the present world to live more comfortably in the past…" —TheaterMania.