All the Way - ePublication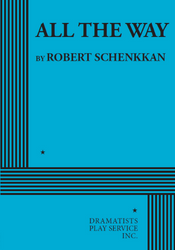 Recipient of the 2014 Tony Award® for Best Play.

THE STORY: November, 1963. An assassin's bullet catapults Lyndon Baines Johnson into the presidency. A Shakespearean figure of towering ambition and appetite, this charismatic, conflicted Texan hurls himself into the passage of the Civil Rights Act—a tinderbox issue emblematic of a divided America—even as he campaigns for re-election in his own right, and the recognition he so desperately wants. In Pulitzer Prize and Tony Award–winning Robert Schenkkan's vivid dramatization of LBJ's first year in office, means versus ends plays out on the precipice of modern America. ALL THE WAY is a searing, enthralling exploration of the morality of power. It's not personal, it's just politics.
"…action-packed, thoroughly gripping…jaw-dropping political drama." —Variety.

"One of the highlights of the Broadway season." —Associated Press.

"A theatrical coup…nonstop action. The suspense of a first-class thriller." —NY1.

"A rewarding night at the theatre." —Rolling Stone.

"A sure-fire, action-packed hit." —Huffington Post.

"With a cinematic sweep and an eye toward teasing out parallels to our current political gridlock, Schenkkan artfully traces the first year of LBJ's presidency." —Entertainment Weekly.