Mothers and Sons - ePublication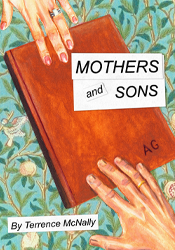 THE STORY: At turns funny and powerful, MOTHERS AND SONS portrays a woman who pays an unexpected visit to the New York apartment of her late son's partner, who is now married to another man and has a young son. Challenged to face how society has changed around her, generations collide as she revisits the past and begins to see the life her son might have led.
"Terrence McNally is a probing and enduring dramatist. A resonant elegy for a ravaged generation, MOTHERS AND SONS wears its significance defiantly." —The New York Times.

"Eloquent, exceptionally timely and intensely resonant. A moving reflection on a changed America." —Chicago Tribune

"Fantastic! McNally captures a moment of hope and promise…MOTHERS AND SONS feels like the sun on your face!" —NBC New York.

"A masterpiece. Terrence McNally is one of the greatest contemporary playwrights the theatre world has yet produced. MOTHERS AND SONS is profound. Heartbreaking. Triumphant." —New York Observer.