The Christians - ePublication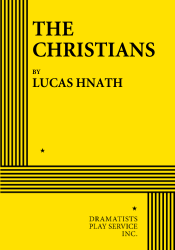 THE STORY: Twenty years ago, Pastor Paul's church was nothing more than a modest storefront. Now he presides over a congregation of thousands, with classrooms for Sunday School, a coffee shop in the lobby, and a baptismal font as big as a swimming pool. Today should be a day of celebration. But Paul is about to preach a sermon that will shake the foundations of his church's belief. A big-little play about faith in America—and the trouble with changing your mind.
"…raises probing questions about how and why organized religion can be a divisive, if not abusive, social force…consistently combines formal invention with intellectual inquiry. Mr. Hnath is quickly emerging as one of the brightest new voices of his generation." —The New York Times.

"…powerful, riveting…handles a complex and intellectual debate in a relatable way and that, more importantly, shows the human and real consequences of choices based in spirituality." —National Catholic Reporter.

"…plants the audience squarely in the thick of the battle…utterly engrossing…many attendees bowed their heads at each call for prayer before reminding themselves that this is, in fact, just a play." —BroadwayWorld.