The Library - ePublication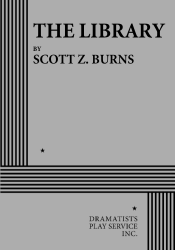 THE STORY: After Caitlin Gabriel survives a deadly shooting at her high school, she struggles to tell her story to her parents, the authorities, and anyone who will listen. But there are other narratives that gain purchase in the media and paint her in a different light. Renowned Hollywood screenwriter Scott Z. Burns returns to the stage with this bold and chilling play that asks us to examine our relationship to the truth and the lies that claim to heal us.
"Good luck to the audience member who prefers not to be disturbed…We're scared, we're dazzled, we're hooked. Partly inspired by the 1999 shootings at Columbine High School in Colorado, THE LIBRARY doesn't make the mistake of trying to find clear motivations for that crime. Instead, it considers how such events warp and contaminate those who survive them." —The New York Times.

"The show isn't concerned with the tragedy itself but with the stories people tell afterward, from he said/she said testimonies to the search for perfect victims…Some may complain that THE LIBRARY is too emotionally detached, but that's actually a strength: It's rare to see a show take a step back so the audience can think." —New York Post.

"Scott Z. Burns delivers a smart and probing drama with an aggressive calmness. You'll leave THE LIBRARY angry for all the right reasons." —TheaterMania.