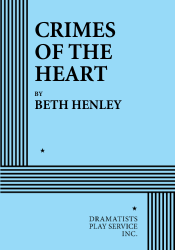 Winner of the 1981 Pulitzer Prize for Drama.

THE STORY: The scene is Hazlehurst, Mississippi, where the three Magrath sisters have gathered to await news of the family patriarch, their grandfather, who is living out his last hours in the local hospital. Lenny, the oldest sister, is unmarried at thirty and facing diminishing marital prospects; Meg, the middle sister, who quickly outgrew Hazlehurst, is back after a failed singing career on the West Coast; while Babe, the youngest, is out on bail after having shot her husband in the stomach. Their troubles, grave and yet, somehow, hilarious, are highlighted by their priggish cousin, Chick, and by the awkward young lawyer who tries to keep Babe out of jail while helpless not to fall in love with her. In the end the play is the story of how its young characters escape the past to seize the future—but the telling is so true and touching and consistently hilarious that it will linger in the mind long after the curtain has descended.
Also winner of the 1981 New York Drama Critics Circle Award for Best American Play.

Warm-hearted, irreverent, zany and brilliantly imaginative, the play teems with humanity and humor as it examines the plight of three young Mississippi sisters betrayed by their passions.

"While this play overflows with infectious high spirits, it is also, unmistakably, the tale of a very troubled family. Such is Miss Henley's prodigious talent that she can serve us pain as though it were a piece of cake." —The New York Times.

"It has heart, wit and a surprisingly zany passion that must carry all before it…it would certainly be a crime for anyone interested in the theatre not to see this play." —New York Post.

"From time to time a play comes along that restores one's faith in our theatre…" —New York Magazine.