Bakersfield Mist - ePublication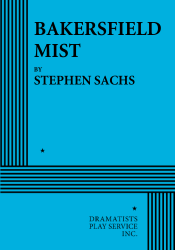 THE STORY: Maude, a fifty-something unemployed bartender living in a trailer park, has bought a painting for a few bucks from a thrift store. Despite almost trashing it, she's now convinced it's a lost masterpiece by Jackson Pollock worth millions. But when world-class art expert Lionel Percy flies over from New York and arrives at her trailer home in Bakersfield to authenticate the painting, he has no idea what he is about to discover. Inspired by true events, this hilarious and thought-provoking comedy-drama asks vital questions about what makes art and people truly authentic.
"Not to be missed! [BAKERSFIELD MIST] tackles large creative questions with well-timed zingers." —Vanity Fair.

"Thoroughly entertaining…Put a smile on my face and kept my brain buzzing for a good while afterward." —The Times (London).

"Wonderfully funny! Entertaining…one of the best plays on now in London. Terrific! Definitely the genuine article." —The Telegraph (UK).

"Sachs' short, clever play is a battle of wits." —The New York Times.

"It's exhilarating in the extreme when a play strikes rich on every conceivable level. A wry two-hander that handles highbrow artistic issues while zinging in plenty of uproarious one-liners. A perfect marriage of emotion and ideas that is rare indeed." —Los Angeles Times.

"A triumph! Hugely gratifying! An absorbing, hilarious two-hander about the nature of art and the vagaries of human perception." —Backstage.