Sans Merci - ePublication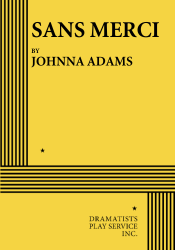 THE STORY: Kelly, an idealistic young woman—and a survivor of rape and attempted murder by South American revolutionaries—is visited three years after the attack by the conservative mother of Tracy, the other victim. Slowly, the survivor and mother dance through their grief at losing Tracy, while negotiating the truth of what brought the two young women together, why they undertook their dangerous humanitarian mission, and what happened on that final day.
"Dramatic and gripping…Adams' script gives us a lot to chew over…very moving." —Indie Theatre Now.

"SANS MERCI is a powerful and moving piece of theatre…Striking a delicate balance between sweet and bland, heartbreaking and overwrought is something playwrights [struggle with], especially…writing about love, secrets and death. Johnna Adams tackles all three of these and handles them with poetic beauty, skillfully bringing you into the wonderful courtship of two young women and the devastating tragedy that befalls them." —The Arts Wire.

"[Rivals] Greek tragedy in its explosive power." —OC Weekly (CA).

"SANS MERCI skillfully blends pairs of opposites. It challenges our minds while touching our hearts, pits a young woman from one end of the political spectrum against an older woman from the opposite end, and balances serious issues with deft moments of light humor…Adams earns our pity honestly through her play's clear-eyed vision of an indifferent world." —Orange County Register (CA).