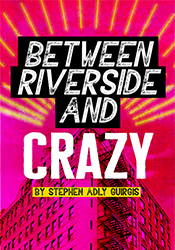 Winner of the 2015 Pulitzer Prize for Drama

THE STORY: Ex-cop and recent widower Walter "Pops" Washington and his newly paroled son Junior have spent a lifetime living between Riverside and crazy. But now, the NYPD is demanding his signature to close an outstanding lawsuit, the landlord wants him out, the liquor store is closed—and the church won't leave him alone. When the struggle to keep one of New York City's last great rent-stabilized apartments collides with old wounds, sketchy new houseguests, and a final ultimatum, it seems that the old days may be dead and gone.
Also winner of the 2015 New York Drama Critics' Circle Award for Best Play, the 2015 Lucille Lortel Award for Outstanding Play, and the 2015 Outer Critics Circle Award for Outstanding New Off-Broadway Play.

"…somewhere south of cozy and north of dangerous, west of sitcom and due east of tragedy…a dizzying and exciting place to be…Blurring lines between the sacred and profane has always been a specialty of Mr. Guirgis…fresh and startling…RIVERSIDE traffics in paradoxes, which is to say it deals with the walking contradictions that are human beings…Mr. Guirgis has a splendid ear for these various languages of deception." —The New York Times.

"You can't always believe your eyes or ears during Stephen Adly Guirgis' vivid group portrait, BETWEEN RIVERSIDE AND CRAZY. [Guirgis'] dialogue is believable and lived-in." —New York Daily News.

"…wonderful…a genuine original, one that deserves to be seen by anyone hungry for a smart, exuberantly funny urban dramedy with a spirit as shrewd and forgiving as its motor-mouth language is wild and lush." —Newsday (NY).

"[A] love/hate song to this impossible town and its outlandish citizenry…Everyone's bound to be captivated by Guirgis's loudmouthed locals…[and] warm, rich dialect that comes right off the city streets." —Variety.

"RIVERSIDE explores, with both street-smart, sometimes-profane wit and disarming tenderness, the different ways in which we cling to, reject and exploit faith. Never one to settle for simple answers or snarky observations, Guirgis portrays his characters, and their twisting journeys, with humor and compassion." —USA Today.