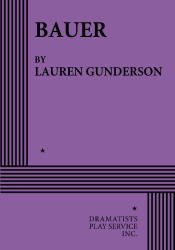 THE STORY: Love. Art. Defiance. The visceral and visual true story of forgotten modern artist Rudolf Bauer, struggling with his fading place in the history of art as his paintings are removed from the walls of the Guggenheim Museum.
"[A] beautifully written play…Gunderson goes deep in her exploration of greed's effect on love and art…it brings its audience to tears." —The New Yorker.

"Lauren Gunderson constructs layers of edgy, fraught dialogue to probe a real-life mystery: Why did…Rudolf Bauer, a pioneer of Non-Objective art, stop painting after signing a contract with Solomon Guggenheim that would promise all his future work to Guggenheim's new museum?…[A] love triangle provides plenty of fuel for Gunderson to explore the sometimes-fragile nature of the artistic impulse, the moral obligations of the artist, the significance of art and art-making, and the convoluted relationships that can foster or block the artist's singular spirit." —San Francisco Examiner.

"There's brittle, witty repartee…[with] terse, poetic statements of Bauer's evocative aesthetics." —San Francisco Chronicle.

"Gunderson's work of historical fiction tackles the complex emotions and motivations behind Bauer's disappearance from the art scene in the early 1940s. Fluctuating between a living-room drama and an avant-garde display, Gunderson lands on a few genuinely intriguing moments…" —TheaterMania.