For the Loyal - ePublication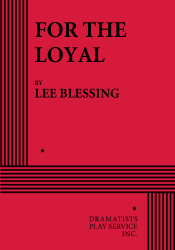 THE STORY: Toby and Mia are graduate students with a bright future ahead of them: a baby on the way and a college coaching job for Toby. But when Toby stumbles across a secret that threatens to derail their future, he and Mia must decide between honesty and loyalty, and whether doing something wrong is the only way to do what's right. Inspired by the Penn State sexual abuse scandal, FOR THE LOYAL is an emotional and thought-provoking night of theater.
"Part of Blessing's pedigree is writing zeitgeist-y scripts that tinker with time, and here he proposes a couple different realities that proceed on a parallel track. In one, Mia acts as judge, jury and executioner. In another, she stays silent for the sake of her husband's career. While her decision whether to act has significant implications on Mia's life, Blessing interestingly and somewhat disturbingly posits that the maw of major-university athletics grinds on regardless." —St. Paul Pioneer Press.

"All of us like to think that if we witnessed a crime, especially against a child, we would report it to the police…But would we? What if we didn't have any actual evidence, just suspicions? What if reporting the incident would destroy our lives?…Such are the questions posed in FOR THE LOYAL…It's a powerful, engaging, thought-provoking exploration of this horrifying and all too familiar situation." —Cherry and Spoon.