The Glamour House - ePublication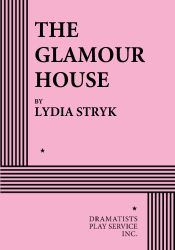 THE STORY: It is 1947. In the glamorous world of Trudi Stein's dress shop on Manhattan's Upper East Side, everything is cloaked in silence—until the arrival of an enigmatic new salesgirl, Esther Bayer, a young immigrant from Germany, whose very presence fills the joyless establishment with energy, laughter, and life. What ensues is a mysterious, obsessive relationship that culminates in revelation.
"Playwright Lydia Stryk displays an extraordinary talent for the medium. Her dialogue has an astonishing rhythm, a cadence that lets characterization flow naturally…THE GLAMOUR HOUSE doesn't have a wasted moment…But what Stryk is best at is constructing a feeling of dread and of making the audience want more…[She] slowly metes out the revelations in this compelling and touching drama, keeping us intimately involved…This is the kind of drama that's certain to be performed for years to come. It has all the right ingredients of a classic." —Windy City Times (Chicago).

"Lydia Stryk is a master of the turn of phrase and taut dialogue…but what makes [THE GLAMOUR HOUSE] remarkable besides the language is [her] ability to create characters, her understanding of how women interact with one another. It's a very contemporary play but nonetheless an interesting period piece." —Chicago Public Radio.

"Lydia Stryk's winning THE GLAMOUR HOUSE is populated by richly crafted characters [and] offers a wonderful window into…women's desire. It certainly has all the sheen and glamour an audience might seek." —Chicago Tribune.