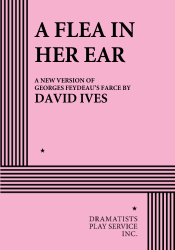 THE STORY: A FLEA IN HER EAR is the greatest of French farces, perhaps the greatest farce ever written. Raymonde Chandebise suspects that her husband, Victor, a placid and successful insurance executive, is secretly having an affair. To find out, she and her friend Lucienne write him an anonymous love letter suggesting a rendezvous at the shady Frisky Puss Hotel. Thinking the letter was intended for his coworker, the gigolo Tournel, Victor sends Tournel off to make the rendezvous in his place. Lucienne's jealous Spanish husband, meanwhile, finds the letter, recognizes his wife's handwriting and takes his pistols to the Frisky Puss, hoping to catch her in the act. Meanwhile, Victor's nephew Camille tries to warn everyone about the mix-up, but his ridiculous speech impediment prevents anyone from understanding him. In Act Two, all decamp to the Frisky Puss where, it turns out, the drunken bellboy Poche is the exact double of the proper Victor Chandebise. Meeting Poche and thinking she's been caught by her husband, Raymonde keeps trying to escape from the hotel with Tournel, but a revolving bed keeps flinging them from room to room, as more and more of the involved parties pile into the hotel in a climax culminating in the entrance of the jealous Spaniard and his pistols. In Act Three the vortex spins even faster as all the parties return to the Chandebise home utterly confused about what actually happened and who was who at the Frisky Puss. The drunken bellboy arrives, is mistaken once again for Victor, and all the threads of the multiple mix-ups are sorted out as Victor and Raymonde recognize their mutual confusions and are reunited.
Winner of a 2006 Jefferson Award for New Adaptation.

"Ives' adaptation maintains the original's dazzling plot while communicating Feydeau's playful use of language to an American audience." —Backstage.

"…[a] crisp, delightfully ridiculous translation…" —Time Out Chicago.

"…a hilarious evening of classic comedy." —Chicago Critic.