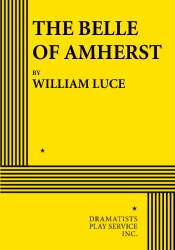 THE STORY: In her Amherst, Massachusetts home, the reclusive nineteenth-century poet Emily Dickinson recollects her past through her work, her diaries and letters, and a few encounters with significant people in her life. William Luce's classic play shows us both the pain and the joy of Dickinson's secluded life.
"The text is marvelously comprehensive, emotional and revealing. Mr. Luce has woven it in graphic portrait without playing any literary tricks." —Brooks Atkinson.

"The play has been skillfully crafted by William Luce…An unforgettable playgoing experience." —Variety.

"Should be seen in every state of Emily's America." —Newsweek.

"Playwright William Luce has chiseled a perfectly detailed cameo…By some interior kind of magic, Luce has avoided all the pitfalls associated with literary figures brought to life onstage. He has made an Emily so warm, human, loving and lovable that her ultimate vulnerability will break your heart." —Boston Globe.

"A drama of the spirit." —Philadelphia Inquirer.

"Adroitly fashioned by William Luce, so emotionally varied, so cumulatively riveting that it functions just as a full-fledged play does…Vivacious, vigorous, teasingly honest." —The New York Times.

"…magnificent…An arresting, riveting experience unlike any I've known…An overwhelming, meticulous adventure full of passion and poetry and heart. William Luce's text is like poetry itself." —New York Daily News.

"A fine miniature done with the smallest brushes on pure, clean linen, THE BELLE OF AMHERST is an enthralling evening." —Washington Post.

"William Luce is every inch a playwright—there is not a false line, not a single awkward transition in the evening that he has provided for Emily Dickinson." —National Observer.

"Around this deeply paradoxical figure, William Luce has woven his absorbing and moving one-woman play." —The Evening News (London).