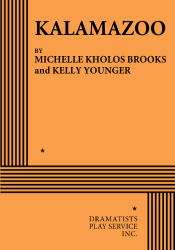 THE STORY: Peg and Irv, two quirky but endearing baby-boomers, bravely venture into the world of modern dating. But when these opposites attract, they discover love isn't any easier the second time around. KALAMAZOO is a romantic comedy about life's second act and learning you're never too old to be young.
"A disarming comedy that lets us laugh about growing older while addressing the very real hardships and heartaches that come when one spouse from a life-long marriage is suddenly left alone…the banter in this play is both hilarious and startlingly honest. It just rings true in ways that can be surprising and shocking, but always satisfying." —Examiner.

< "…a rich story about love at any age." —Encore Michigan.

< "…an involved and skillful piece of writing." —Indiana Public Media.

< "Bouts of riotous laughter…it's hard to imagine a better show." —Herald-Times (IN).