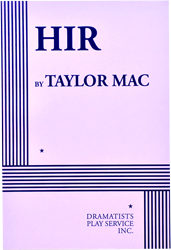 THE STORY: Somewhere in the suburbs, Isaac has returned from the wars to help take care of his ailing father, only to discover a household in revolt. The insurgent: his mom. Liberated from an oppressive marriage, with Isaac's newly out transgender sibling as her ally, she's on a crusade to dismantle the patriarchy. But in Taylor Mac's sly, subversive comedy, annihilating the past doesn't always free you from it.
"…sensational—in all senses of the word…[an] audacious and uproarious black comedy…Mac has his own gloriously skewed vision of the toxins fouling the American family from within, and in its avowedly loopy way HIR reflects current concerns about the decline of the middle class, as well as the trauma war veterans endure…brilliant writing…" —The New York Times.

"[HIR] harks back to a time when politically driven narratives were the rule, not the exception. HIR has a lot of ideas—necessary ideas, especially when it comes to flinging open closets in the 'trans' world…[and] show is saved from potential proselytizing by Mac's awareness that his arguments have to grow in complexity in order for his characters to grow." —The New Yorker.

"…exuberant radicalism may not come as a complete surprise to fans of Taylor Mac's previous work…But in HIR, the boundary-violating genderqueer play-wright sets it within the relatively traditional form of a four-character, single-set domestic drama. The result is a dizzying theatrical Tilt-a-Whirl…Patently metaphorical and threaded with nervy satire, HIR at times suggests a modern inversion of David Rabe's 1971 Sticks and Bones…It has a ringing voice all its own, however, and formidable broad-mindedness in its sympathies (and its jabs)." —Time Out New York.