The Language Archive - ePublication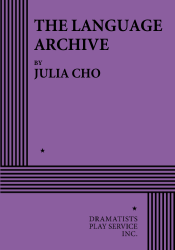 THE STORY: George is a man consumed with preserving and documenting the dying languages of far-flung cultures. Closer to home, though, language is failing him. He doesn't know what to say to his wife, Mary, to keep her from leaving him, and he doesn't recognize the deep feelings that his lab assistant, Emma, has for him.
"However whimsical—even fantastic—it becomes, it affirms life no matter how melancholy." —Bloomberg News.

"[THE LANGUAGE ARCHIVE's] dialogue is a tour de force…the gulf between what's said and what isn't is rarely described and traversed with as much power as it is here. What makes this achievement more significant still is that the play itself is in no way ordinary…passionate…wise and wonderful." —Talkin' Broadway.

"Uniquely blends absurdist farce with sentimental comedy." —Los Angeles Times.

"Quirky, but ravishingly well-written piece that is smart, funny, deep and tender." —OC Weekly.