Address Unknown - ePublication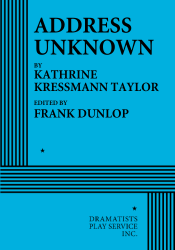 THE STORY: In an era of austerity, recession, and rising nationalism, two friends are torn apart when the Nazi regime infiltrates their friendship and families to devastating effect. Based on the bestselling book, which was written as an anti-fascist call to arms and banned in 1930s Germany for dramatically exposing the threat of Nazism, ADDRESS UNKNOWN is a timely warning of how humanity can fail in the face of extreme ideology.
"[Dunlop] has…harnessed the tragic deterioration of a once binding friendship and the cold, hard inevitability and ugly disruptive consequences of war." —Variety.

"[A] canny adaptation of a top-notch short story, the kind of tale you're reading comfortably in bed when the denouement suddenly and unexpectedly makes your jaw drop—and then, putting your jaw back in action, you exclaim to yourself a deeply satisfied, 'Yes.' …[ADDRESS UNKNOWN] unfold[s] with a dark, inexorable magnetism…" —TheaterMania.