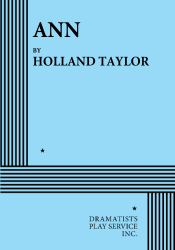 THE STORY: ANN is an intimate, no-holds-barred portrait of Ann Richards, the legendary late Governor of Texas. This inspiring and hilarious play brings us face to face with a complex, colorful, and captivating character bigger than the state from which she hailed. Written and originally performed by Emmy Award-winner Holland Taylor, ANN takes a revealing look at the impassioned woman who enriched the lives of her followers, friends, and family.
"…fiery, salty and brash!" —The New York Times.

"…fun and engaging…marinated in Texas wryness…ANN wants you to savor the wit of this up-by-the-bootstraps politico, who began…as an adoring wife and mother and reinvented herself by entering politics and ascending the ladder…Taylor's Richards gives us a tantalizing taste of what drew her to the public arena." —Washington Post.

"ANN is blisteringly funny. Taylor vividly captures the spirit of her icon. It's hard not to feel the tenderness radiating from the stage. …Feel the power and presence of a truly unforgettable character." —Washingtonian Magazine.

"[Taylor] has crafted a passionate love letter to Richards…[a] witty script…a poignant reminder of what was lost when Richards died of cancer." —WNBC NY.

"A highly entertaining and lovable depiction of a woman with energy to burn and purpose to fill." —Huffington Post.