Every Brilliant Thing - ePublication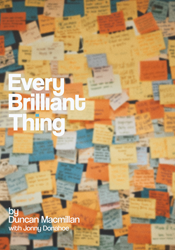 THE STORY: You're six years old. Mum's in hospital. Dad says she's "done something stupid." She finds it hard to be happy. So you start to make a list of everything that's brilliant about the world. Everything that's worth living for. 1. Ice cream. 2. Kung Fu movies. 3. Burning things. 4. Laughing so hard you shoot milk out your nose. 5. Construction cranes. 6. Me. You leave it on her pillow. You know she's read it because she's corrected your spelling. Soon, the list will take on a life of its own. A play about depression and the lengths we will go to for those we love.
"[A] heart-wrenching, hilarious play…One of the funniest plays you'll ever see about depression—and possibly one of the funniest plays you'll ever see, full stop…There is something tough being confronted here—the guilt of not being able to make those we love happy—and it is explored with unflinching honesty." —The Guardian (UK).

"EVERY BRILLIANT THING finds a perfect balance between conveying the struggles of life, and celebrating all that is sweet in it." —The Independent (UK).

"What Macmillan offers, with great sensitivity behind the abundant laughs, is a child's fierce, flawed attempt to make sense of adult unhappiness and a meditation on the shadow that a loved one's depression casts over the lives of a family." —Evening Standard (London).

"…very charming…offers sentimentality without shame…guaranteed to keep your eyes brimming…[The script] balance[s] acuity and affability…with unobtrusive artistry…captivating…" —The New York Times.

"[EVERY BRILLIANT THING] is sad, but it is also gloriously funny and exceptionally warm. It's a show that spells out a little of what depression can do to people, but it also highlights the irrepressible resilience of the human spirit and the capacity to find delight in the everyday." —Time Out London.