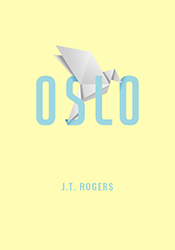 Winner of the 2017 Tony Award® for Best Play.
THE STORY:
Everyone remembers the stunning and iconic moment in 1993 when Israeli Prime Minister Yitzhak Rabin and PLO Chairman Yasser Arafat shook hands on the South Lawn of the White House. But among the many questions that laced the hope of the moment was that of Norway's role. How did such high-profile negotiations come to be held secretly in a castle in the middle of a forest outside Oslo? A darkly funny and sweeping play, OSLO tells the surprising true story of the back-channel talks, unlikely friendships, and quiet heroics that led to the Oslo Peace Accords between the Israelis and Palestinians. J.T. Rogers presents a deeply personal story set against a complex historical canvas: a story about the individuals behind world history and their all too human ambitions.
www.jtrogerswriter.com
"…as expansive and ambitious as any in recent Broadway history…[A] colossus [with] urgent behind-the-scenes intimacy at its fast-beating heart…a marvel of both expository efficiency and exciting showmanship, by which a big picture is revealed to be a composite shot of precisely defined, imperfect individuals." —The New York Times.

"…unequivocally fascinating…This is what we call drama, and it's what we live for." —Variety.

"…a madly engrossing play…gripping human drama…[OSLO makes] diplomacy not just interesting but moving…" —New York Magazine.