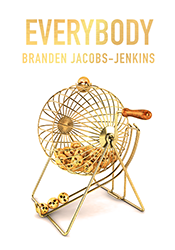 THE STORY: This modern riff on the fifteenth-century morality play Everyman follows Everybody (chosen from amongst the cast by lottery at each performance) as they journey through life's greatest mystery—the meaning of living.
Finalist for the 2018 Pulitzer Prize for Drama.

"This is theatre rather unlike anything you might have seen…unusual, unconventional and eye-opening…Everyman is no barrel of laughs, being a morality play about death. EVERYBODY tells the same tale, with equal emotional heft; but it is not only provocative and involving, it is also funny. Wildly funny, in fact." —Huffington Post.

"…[a] very meta and saucy adaptation…" —Time Out New York.

"[EVERYBODY] fills the heart in a new and unexpected way." —The New Yorker.