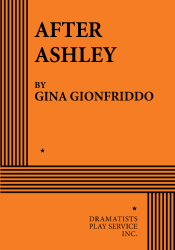 THE STORY: AFTER ASHLEY is a blisteringly funny and deeply affecting story about a teenage boy navigating the joys and terrors of life—all through the distorting prism of a media firestorm. When a family tragedy deals the Hammond family a dose of dubious celebrity, Justin finds himself paralyzed, unable to fully grieve or grow up. The only bright spot is a girl, only Justin can't decide if she's a saving angel or a self-interested groupie. In a world as weird as this one, she might just be both.
"Shrewd, dark comedy…absorbing and wholly unpredictable…AFTER ASHLEY is a work that virtually any audience would find accessible." —The New York Times.

"Sick, ugly, and brilliantly funny…and wise. In Gionfriddo's plays, as in all great plays, no one is wrong, everyone is right." —Brooklyn Rail.

"Write down the name Gina Gionfriddo. Deft characterization, caustic humor, and well-deployed nips at the American slack moral conscience make AFTER ASHLEY, Ms. Gionfriddo's acidic puree of modern culture at The Vineyard, one of the necessary shows to see this year…a play for the decade." —New York Sun.

"…[a] smart, satirical drama…the play's razor-sharp observations, biting humor, droll dialogue and erudite pop-culture literacy provide much to appreciate and enjoy." —Variety.

"…a play that makes you ravenous for more…captivatingly assured, the work of a writer with a keen ear for the language of pop culture and a lacerating ability to con-vey the emotions roiling underneath words…" —Miami Herald.

"…everything works…compelling drama about loss, grief and morality in the media spotlight is richly embroidered with comedy." —Sun-Sentinel (FL).