Ada and the Engine - ePublication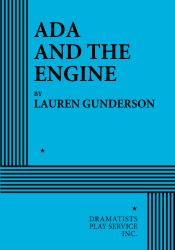 THE STORY: As the British Industrial Revolution dawns, young Ada Byron Lovelace (daughter of the flamboyant and notorious Lord Byron) sees the boundless creative potential in the "analytic engines" of her friend and soul mate Charles Babbage, inventor of the first mechanical computer. Ada envisions a whole new world where art and information converge—a world she might not live to see. A music-laced story of love, friendship, and the edgiest dreams of the future. Jane Austen meets Steve Jobs in this poignant pre-tech romance heralding the computer age.
"Gunderson finds plenty of intriguing matter in the…story she tells, zeroing in on the knowns and unknowns in the relationship between Ada and Charles Babbage…Gunderson's wit…[makes] the story pretty irresistible." —San Francisco Chronicle.

"…wise and witty…[a] very smart and skillful Victorian parlor drama." —SF Weekly.

"Gunderson…has done a terrific job transforming Ada's story…The [script is] succinct and pithy, moving story and emotions along at the clip of an electronically infused calculation." —Repeat Performances.

"What Gunderson achieves in ADA AND THE ENGINE is quite remarkable. She manages to capture the cognitive energy and intellectual intimacy that can strengthen a friendship…ADA AND THE ENGINE is a rare and special artistic achievement: an intelligent play about intelligent historical people that has been crafted by intelligent theatre artists for an intelligent audience." —My Cultural Landscape.