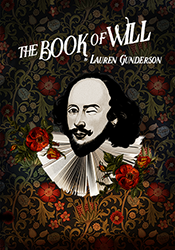 THE STORY: Without William Shakespeare, we wouldn't have literary masterpieces like Romeo and Juliet. But without Henry Condell and John Heminges, we would have lost half of Shakespeare's plays forever! After the death of their friend and mentor, the two actors are determined to compile the First Folio and preserve the words that shaped their lives. They'll just have to borrow, beg, and band together to get it done. Amidst the noise and color of Elizabethan London, THE BOOK OF WILL finds an unforgettable true story of love, loss, and laughter, and sheds new light on a man you may think you know.
"THE BOOK OF WILL…unequivocally announces Gunderson as a playwright with whom to be reckoned. It is, quite frankly, one of the best plays I have ever seen. It will bring tears of both laughter and sorrow to all but the most jaded audience member's eyes. It is, in a word, a triumph." —Boulder Weekly (CO).

"[Gunderson] has peopled the stage with lively, historically based characters…She paints a vivid portrait of the times in language sometimes formal, sometimes poetic and often…contemporary…She also gives a real feel for theater life and what it means to be an actor; you sense this is a work of both scholarship and love…[THE BOOK OF WILL] serves as homage to those who sacrificed to make the first folio happen and to Shakespeare's magnificent words." —Westword (CO).