Draw the Circle - ePublication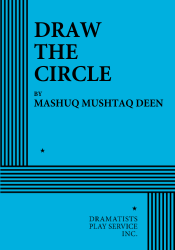 THE STORY: The hilarious and deeply moving story of conservative Muslim mother at her wits' end, a Muslim father who likes to tell jokes, and a queer American woman trying to make a good impression on her Indian in-laws. In a story about family and love and the things we do to be together, one immigrant family must come to terms with a child who defies their most basic expectations of what it means to have a daughter…and one woman will redefine the limits of unconditional love. This unique play compassionately brings to life the often ignored struggle that a family goes through when their child transitions from one gender to another.
"[DRAW THE CIRCLE] chronicles, with surprising empathy, not just what it was like to slowly, painfully come to terms with transition, but what it was like for loved ones who shunned everything about it." —Washington Post.

"…an insightful work that is noteworthy for the compassion with which the playwright…explores viewpoints different from his own…even the most intolerant of characters are allowed to come across as warmly sympathetic in their own ways." —TheaterMania.

"…essential viewing…Deen's extreme vulnerability and creativity coalesce to make it a vitally important piece of theater…DRAW THE CIRCLE is a singular theatrical experience." —BroadwayWorld.

"The effect of Deen's storytelling technique and artistry is arresting…a masterful act of writing…If you believe theater can teach us something important about who we are as gendered beings—or even if you just have a hunch that America cannot be great if driven by hate—DRAW THE CIRCLE is an epochal inquiry into identity…and some of the most pressing questions of our time." —DC Metro Theater Arts.