Her Portmanteau - ePublication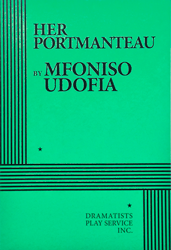 THE STORY: HER PORTMANTEAU is Part Two of the Ufot Cycle, Udofia's sweeping, nine-part saga which chronicles the triumphs and losses of Abasiama Ufot, a Nigerian immigrant, and her family. As Nigerian traditions clash with the realities of American life, Abasiama and her daughters must confront complex familial legacies that span time, geography, language and culture.
"…extraordinary…moving…infuse[s] some tired, tempest-tossed old forms with new blood." —The New York Times.

"Udofia [is] a first-generation Nigerian-American playwright with a lot on her mind and a seriously compelling storytelling gift." —Deadline.

"Can a family hold together across borders? This unspoken question menacingly hangs over [HER PORTMANTEAU]…Udofia offers no easy answers, but her firm grasp of family dynamics will give audiences much to consider…Distance is no longer a barrier to a family relationship, but the problems of jealousy, suspicion, and disappointment still remain. Udofia unpacks those issues with uncommon sensitivity and brimming imagination." —TheaterMania.

"…a masterpiece…HER PORTMANTEAU…[is] a play from the heart whose emotions will pull you in and stay with you long after the final curtain…a mature, moving [and] accomplished work." —Theater Scene.